Reviews for Thrive Spinal Care
What Our Patients Say . . .
Testimonial in Español
---
Contagious Positive Attitude
Thank you for all your kindness and patience while I was trying (in broken English) to explain some of the struggles that I had encountered in my past that brought me to the pain that I am actually experiencing today. Your Professional care, time and advice made me feel confident for the first time that even though I am a 55 year old twice cancer survivor there was hope for getting better, and your positive attitude was very contagious to my husband and I. We cannot thank you enough !
– Elizabeth W.
---
Very professional and courteous
Dr. Granger and his staff are not only knowledgeable, they are also very professional and courteous. It's always a pleasure to know it's "spinal care" day! – Audrey M.
---
Very friendly staff
The most thorough examination for treatment I've ever received from any chiropractor. Very friendly staff and makes you feel comfortable as soon as you walk in the door. – Sheila D.
---
NUCCA Treatments Helped More Than Medication
I suffered from back pain for 30 years and pain in both my hands for 5 years. I started to see results within about two weeks. I have NO pain in my hands. The back pain persists, due to damage over the thirty years, but I can now lay flat on my back. NUCCA treatments have improved my life because I am now able to use my hands more. I had taken medicine for arthritis and it didn't help as much as the treatment from Dr. Granger. Dr. Granger's office is very friendly and professional. Jennifer does a great job with scheduling. I would recommend Dr. Granger to anyone! – Anna M.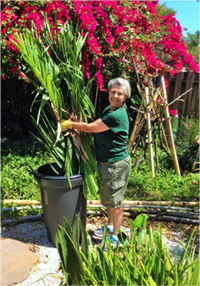 "I love NUCCA because I can garden again!"
I suffered from a neck injury 35 years ago. As life went on, I needed orthotics in my shoes. The left foot pain, left leg shortened, pain in my left hip, and left knee all caused me to sit more and become depressed. After my husband and I retired, he wanted to GO a lot more than me, which caused tension. Then we adopted a hyperactive puppy that needed me. So, the opportunity to see a doctor with non-invasive treatment came to me through prayer and friends who connected me with Dr. Granger. Within the first week my low back pain was gone! My energy level increased 10 fold! I'm now able to do everything I enjoy like Gardening, biking, walking, and cleaning house with energy to spare! My feelings of being less of a person are improving because I can do more, and go more than my husband, and he likes it! Dr. Granger and his office are FANTASTIC! I love the encouragement and happiness that exude there; keep doing what you are doing! I'm very grateful. – Billie Jo K.
Severe Lower Back Pain Gone
I sought NUCCA chiropractic care because I had severe lower back pain, to the point that I could not even lift a gallon of milk. I also suffered with lifelong migraines. After the second visit, I no longer woke up with a migraine. It took about 5 or 6 visits for my back to improve. Now, I have no more lower back pain at all! And very few migraines! I can physically do yoga again, go grocery shopping without assistance and I'm saving money by not buying pain relievers. Also, I have more energy! I wish every physician's office was as kind, pleasant, and friendly as Dr. Granger and Jenn. I look forward to my visits because I get to see both of them. When I first came to you, you made a promise to heal me and you have fulfilled that promise, so thank you! – Theresa H.
---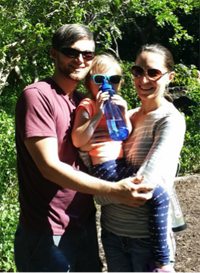 My family is healthy and I can be pain free without the use of medication!
I initially sought NUCCA treatment for my Sciatica. Within the first week of being adjusted I began to see results. Now, I have sciatica pain only occasionally, rather than discomfort almost every day. I am also sleeping much better. The treatment has improved my life and my health is better all around. My appetite is up because I am not in chronic pain anymore. Dr. Granger's office is a very welcoming environment. My 4 year old loves coming in to get her adjustment! She asks to go into the office and see Dr. Granger! – Nicole, Shawn & Shae C.
---
Feeling Stronger Every Day
I was having a hard time walking and trying to stand up straight when I met Dr. Granger at the Senior Fair. He said he could help me, so I made an appointment when I discovered he was a Chiropractor. And, soon I discovered he does not hurt you. He is very caring and makes you feel good. And Jen is very caring also. I started to see results the very first time Dr. Granger adjusted my neck. I straightened up immediately and even walked better without pain. I am continually getting better. Even after I had a bad fall I was lucky not to break any bones and I'm still getting better, thanks to Dr. Granger. I still have a ways to go yet, but I'm walking so much better and I'm standing up straighter and I can stand up longer without having to sit down every few minutes. I'm feeling stronger every day. His office is great and the Doctor and Jen are so super, super nice. I don't feel like my 88 year old self anymore now that I can do more things that I had a hard time doing before. – Margaret A.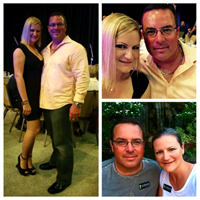 Husband and Wife Enjoying NUCCA Together
Eric says: I initially sought NUCCA Chiropractic care because of my neck pain with a grinding sensation in my neck, along with persistent numbness in my arms. I had only been going to Dr. Granger for two and a half weeks before I noticed big improvements; the numbness in my arms stopped. Also, my wife says my snoring has improved. Read more »
My life is vastly improved. Prior to Dr. Granger I'd been going off and on to traditional chiropractors since 2007. I would see some improvement, but always seemed to only reach a certain level of recovery and then plateau. In the time I've been treated by Dr. G, I've already made more improvements in two and a half weeks than these past nine years! I'm VERY excited to see where my new recovery takes me as I continue to improve every month! – Eric C.
Jennifer says: I initially sought NUCCA Chiropractic treatment because 5 years post surviving a high impact rear-end collision, I had already tried literally everything else! I was still experiencing DAILY headaches with tinnitus, migraines once a week, constant neck pain, pain between my shoulders that radiated down my arms, not to mention my residual low back pain with radiation down my left leg after two back surgeries at only 40 years old. Read more »
I was desperate for some relief, but I actually did not feel much relief or see positive results until I was well into my second month of treatment. Initially, I actually got worse. My first adjustment caused severe nausea with being sick to my stomach! But with Dr. Granger's encouragement, and education about my complicated condition of my Atlas being out of alignment on both planes, I stuck with the treatment schedule. My results? After four full months of treatment completed, I do not have daily headaches. And the few headaches/migraines I have had in my fourth month has been much less severe. I feel like I am finally beginning to think clearly without constant pain & ringing in my head. During the time I have been treating with Dr. Granger, I would say the biggest improvement in my life so far, is that I actually feel hopeful again! Before meeting Dr. G, I had come to accept that at the age of 41, my life would be a 'life of pain.' I had tried EVERYTHING ELSE to try to get some relief from pain. I followed all of my Orthopedics' recommendations. I tried injections of all kinds: Cervical epidurals, facet injections, trigger point injections in my neck shoulders and lower back. I've also had two lumbar surgeries in the past 5 years since the accident. I even tried regular chiropractic for two years post-surgery at twice a week with little to no lasting improvement. All previous treatments combined gave me temporary relief at best. But treating with Dr. Granger is finally, slowly but surely relieving the root cause of all my symptoms. With the progress I have seen, I am SO excited to see where I will be after one full year! Dr. Granger has truly changed my life and has given me a reason to hope for a life free of pain! I wish I had found NUCCA and Dr. Granger 5 years ago, no 20 years ago! I cannot thank you enough!" – Jennifer B.
NUCCA Treatment Has Improved My Life
I love NUCCA because the treatments are ever so gentle. The Doctor and his assistant Jennifer are so warm and friendly. There is never any waiting for appointments and the whole atmosphere is warm just like home. I originally came in for a NUCCA exam because of severe pain from a fractured hip, pelvis, and vertebrae which was not being helped by anyone else's care. I began to see results probably within the first week or two. I am walking better, am able to do my household chores and feed and take care of my two cats. This treatment has improved my life as I am in less pain and able to resume activities I was not able to do before. Dr. Granger is a true doctor like the doctors of long ago, way before his time. He is friendly, caring, compassionate, sympathetic, hopeful and encouraging. Although he has many patients and is very busy, he takes his time with each one, listening to their concerns and makes each one feel that they are his only patient. The office is extremely comfortable, beautifully decorated, always very neat and clean and when you walk in it feels more like you are in a luxurious hotel. You are always greeted in a friendly, helpful manner and never have to wait around for your appointments. Jennifer, the receptionist, is delightful, friendly and helpful and a pleasure to be around and she adds much to the already pleasant atmosphere. – Eileen D.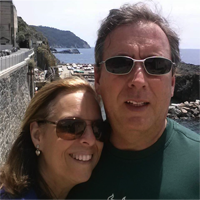 Improved Range of Motion, Full Nights Sleep and No More Headaches
I sought out NUCCA Chiropractic care because I couldn't move my head from side to side or up and down. I had severe headaches and difficulty sleeping. I began to see results after the first week. My headaches started to diminish and I started sleeping better. I now have 80% full range of motion of my head, I sleep 6-8 hours a night and haven't had a headache in months. I look forward to my weekly visits and continued improvements. This treatment has lifted a dark cloud of desperation and depression. I can move more freely without pain, feel stronger and my posture is much better. Dr. Granger and his staff are wonderful. Everyone has a positive, encouraging attitude and they genuinely care about me and my progress. I was recently diagnosed with a re-occurrence of ovarian cancer. I'm grateful for Thrive for helping me feel stronger to fight cancer again. – Jacki F.
Relief From Parkinson's Symptoms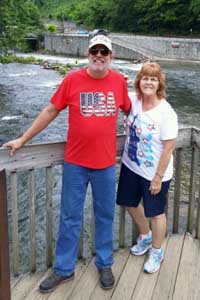 My name is Estelle. I'm a school teacher. I was diagnosed with Parkinson's almost 6 years ago. I shuffled my feet, dragged one leg, and carried my arm as if it was in a sling. As the symptoms progressed, people began to notice them. In fact, one summer coworkers even thought I'd had a stroke. I had countless X-rays, MRIs and cat scans, but was simply told Parkinson's was to blame. I went to physical therapy after developing terrible pain in my back. I tried pain pills and muscle relaxers for 6 weeks! Nothing was working.
My niece and several family members recommended I make a visit to Dr. Granger. That is when my life changed. I made the trip down to Thrive Spinal Care for a full evaluation and detailed set of x-rays. I was terrified at the thought of being touched by a chiropractor. The exam revealed that I carried 30lbs more weight on one side. Read more »
I'll never forget the moment I walked out of the door standing taller, moving my arm and just feeling better. I even took off my shoes and walked barefoot across the office because I could feel my feet. When I returned to school everyone was asking what I had done, what had changed. They said I looked like a new person. I truly believe I have gained 20 years of mobility back. I can now walk, run, sit crisscross and ride tricycles with my students again. My whole demeanor has changed. I am smiling, standing more erect and even find myself to be more engaging.
That is why I drive for 4 hours to get checked. If I had to, I would drive 24 hours.
The personal service and gentle NUCCA adjustment are not something you can find at just any chiropractor. I have 100% trust and the highest regard for Dr. Granger. His superb bedside manner, positive attitude, and dedication to his craft are bar none.
It's amazing how the position of one vertebra can affect your entire nervous system.
My husband insists that I go as it has given me my life back. I wanted to share my story so other people who are suffering or hesitant may be encouraged to get the help they need.
When I go for my adjustments, I come back to life, and I owe it all to Dr. Granger.
Sincerely,
Estelle D.
Helped My Wife & Improved My Life
My name is Rodney Demetski. I am almost 62 years young, an active welder who's worked my whole life. To be honest, before coming to Dr. Granger's office, I didn't really think anything was wrong with me. However, after seeing the results of my wife and daughters, I decided a simple evaluation was worth a shot.
I hadn't been to a doctor of any kind in years. I figured I would accept any problems as they came along. Well, the initial x-rays revealed my head was not sitting properly atop my neck and I carried my weight slightly off balance. Read more »
After being adjusted, I began to notice a change in my body. Overall, I was in a better mood and my sleep quality greatly improved. Even my gut felt better! Now every chance I get I am sharing the benefits of NUCCA with those around me in hopes others may experience a new level of health.
As you may or may not know, when you hold adjustment you celebrate your progress in the office by ringing a bell. I donated the bell you see in this office as a small token of my appreciation for what Dr. Granger has done for my entire family and my wife in particular. I am proud that I was able to use my craft to in some way pay tribute to him.
While I can never repay Dr. Granger for the way he has helped my family, I am happy that my talents will allow other practice members to enjoy the satisfaction of holding their adjustment!
I am proud to say that I have taken charge of my health and I hope you will do the same for yourself and your family.
Thank you Dr. Granger for helping my family.
Rodney D.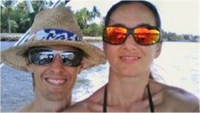 "Our Results Are Priceless!"
We love NUCCA because it allows our body to have the proper alignment, healing, and flow. The properly aligned body, mind, and spirit is at peace, full of love and compassion. I am so grateful for NUCCA. We suffered from chronic back, hip and knee pain as well as sever migraines. With already one knee surgery, the future held bilateral knee and hip replacements and pain medications, limited mobility and a diminished capacity.
We arrived at NUCCA by accident at our local farmer's market one glorious South Florida Saturday morning. My husband pulled me over to Dr. Granger's NUCCA booth and our lives would be forever changed for the best. Dr. Granger conducted an assessment, explained what NUCCA is and how it could help us. He worked with our schedules and income to ensure optimal treatment regimen. Read more »
We were used to traditional chiropractic methods of cracking and popping sounds. After undergoing a couple of treatments with profound results and attending Dr. Granger's orientation, the skepticism diminished to nil. After a few treatments, we were grateful to not only be out of pain that had been a constant companion, but to not endure the dreadful cracking of our necks and backs.
Dr. Granger uses physics and geometry to align the most important bone in our bodies; the Atlas. Once this gateway was opened, the flood of cerebrospinal fluid, blood, and ultimately communication from the central nervous system to peripheral nervous system occurred. It was as if our bodies were in a dysfunctional relationship with itself and suddenly developed excellent communication skills and started to heal itself. It really works by addressing and solving the problems at the root cause.
Within one week of NUCCA treatments we started seeing results. The healing process has been a rollercoaster of correction and re-correction as our bodies were adjusting to the correct position as opposed to the incorrect position is was used to for so many years. Dr. Granger is honest, patient and walks you through your healing process. Thus, we started with twice weekly treatments and progressed to once weekly.
The treatment program is described in great detail by Dr. Granger with visual aids and constant coaching. The best advice to give a new NUCCA patient is to be patient; allowing your body to heal via innate healing takes time. The damage and trauma did not occur overnight nor will the affects cease overnight.
Our results are priceless. We sleep better, can move without pain, we have more energy and calmer moods with clearer thinking. The improvement to our life has been dramatic, just by being able to do basic activities without severe pain and disability. More energy allows you to tackle all life has to offer. Clearer thinking without caffeine is tremendous in both aspects of work and home. Having a stable mood and calm emotions has improved our marriage and provided a sense of wellbeing.
Dr. Granger, and his assistant Jennifer exude care and compassion. They make you feel like family with smiles and kindness. They are always willing to answer our thousands of questions, accommodate our schedules and fit us in should we have a concern. Their office is always clean, tidy and a calm environment. The technological advances and electronic medical records ensure our privacy is protected. Thank you, Dr. Granger for sharing your expertise and putting us on the path to lifelong health and happiness. Thank you! Thank you! Thank you! – The Sands Family
Increased Range of Motion in Neck and Better Posture
What prompted me to seek NUCCA care is that I was suffering from chronic lower back pain which was under relative control; in addition I was suffering from chronic upper cervical, shoulder, and neck pain – often severe with limited range of motion. I did not see results immediately, but progress has continued. I have much greater ROM in my neck, even during my most stressful times. Recently, my back muscles are not constantly tight. The tingling in my hand has been resolved. NUCCA has improved my life because I am not constantly aware of back and neck pain. My mental attitude has improved. I have quit smoking and greatly reduced my alcohol intake. My posture is improving. Dr. Granger and his assistant Jennifer are warm, welcoming, and competent professionals. – Rebecca L.

Thrive Spinal Care | (954) 533-1977