About Us
Dr. Jason Granger opened Thrive Spinal Care to provide the highest level of spinal care to Cooper City and the surrounding areas. We pride ourselves on using NUCCA's modern yet gentle spinal adjustments to correct structural misalignments, relieve pain, and empower you to function at your maximum potential.
Even if you already enjoy good health, maintaining a healthy spine can ensure that you never experience the debilitating pain and suffering so many people develop as they age. Imagine living in a world where your body doesn't break down as you get older, but remains a source of health and vitality, allowing you to live the life you've imagined.
When your body expresses 100% of its potential, it can heal itself.
An Exclusive Technique for Superior Healing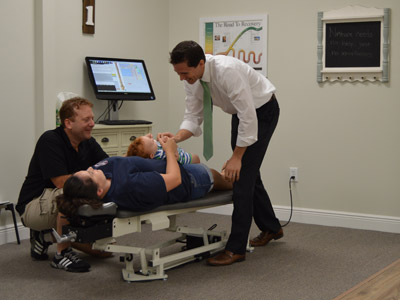 Many patients are worried about chiropractors who pop and crack their necks. They're also worried of becoming addicted to getting adjusted.
That's one of the main reasons that Thrive Spinal Care utilizes a different approach that's consistently alleviating pain and changing lives – NUCCA Chiropractic. In fact, we are the only practice in South Broward County that specializes in this gentle method of care.
What Makes NUCCA Unique?
Precision – precisely positions the skull and the atlas area of the spine
Gentle adjustments – no popping, twisting, or cracking
Long-lasting results – your alignment lasts longer as your care progresses
The stresses of daily life often affect our spines, causing misalignments. After locating the source of your problem, Dr. Granger uses his hands to open nerve channels and improve the function of the nerves, allowing the body to get better.
The Thrive Spinal Care Mission
To set the standard for excellence in pure chiropractic care, patient experience and public education.
To relieve those in our community suffering from spinal subluxation, and to help them maintain their adjustments allowing them to function at their maximum potential.
We endeavor to create life-long chiropractic patients, to constantly reach out and educate people about the benefits of an innate, balanced lifestyle, and to foster an environment of healing where drugs and surgery are the exception rather than the rule.
Success Stories From Happy, Healthy Patients
Every day, we are fortunate to see people rediscover their health. From day old children to adults in their 90s, there are countless testimonials from satisfied patients. Whether it be the 20 month old who had yet to take her first steps until after a gentle NUCCA adjustment, who now comes running in to see Dr. Granger, or those who have arrived in a wheelchair, only to be able to walk in and out a few weeks later. We have been able to restore hope to many who thought they had tried everything.
Moms who have suffered from migraines or headaches have found themselves rarely experiencing the painful condition again, regaining their life back without having to be shut in a dark, quiet room, away from their family. They can go on vacation, climb mountains, go to the pool with their children and so much more.
"I love NUCCA because I came in one week ago all twisted, could barely walk straight and in pain like no other. Two treatments and I'm smiling and holding my adjustment. I got to ring the 'bell!' Thanks! I am in NO PAIN!"
– Jack R.
It is a miracle to see what NUCCA chiropractic care can do!
With state-of-the-art digital X-ray facilities on-site, we provide the highest quality in patient care under one roof. Contact us today to find out how we may be able to improve your life!
Request An Appointment >


About Thrive Spinal Care | (954) 533-1977